Appetizer:
Booster Gold #12 -- hrmph...well, I was expecting better, honestly; this issue was still had moments of fun, especially getting to see Booster tool around in the classic TV Batmobile,
Appetizer: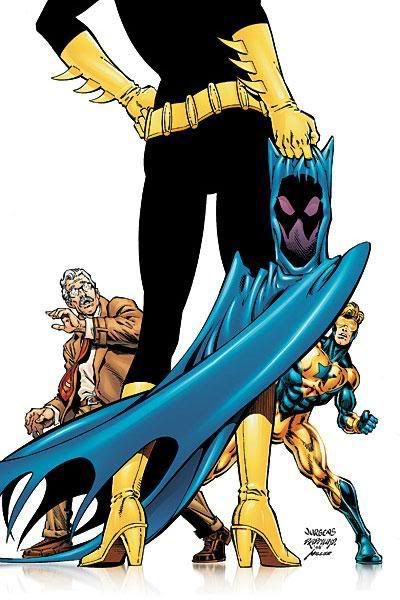 Booster Gold #12 -- hrmph...well, I was expecting better, honestly; this issue was still had moments of fun, especially getting to see Booster tool around in the classic TV Batmobile, but it wasn't nearly as good as the first issue of this 2-parter; mainly, it seems like Dixon set this up to be a "continued-down-the-line" tale (and with Chuck being persona non grata at DC now, who knows if anyone else will ever pick up on it...), and thus left some dangling plot points and some scenes that just didn't make sense; for instance, how the hell is Rip gonna heal himself in the past? Why does Ralph show up at the very end? Booster not recognizing himself? All the stuff about forgetting what just happened but that isn't how it works (huh?)? The art was great, and the book's usual sense of fun was there, the plot just didn't work for me at all; disappointed by it.
Entree: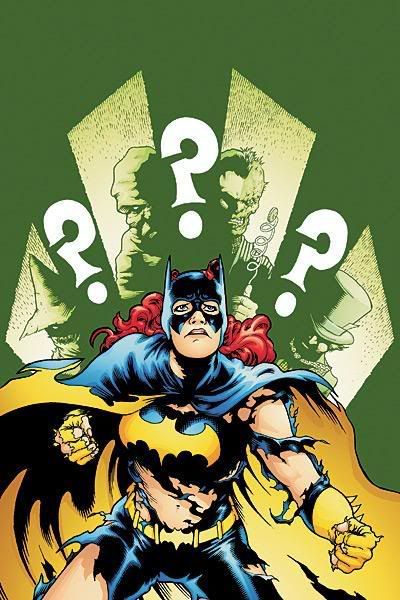 Batman Confidential #21 -- the conclusion to "The Bat and the Cat" was just as much fun as the first four parts; an early-days Babs takes out Catman, Signalman, and Cavalier (what a trio of morons...heh), fools an only slightly-less-smart-than-them Blockbuster (in a tremendously fun scene), outwits a creepy Joker, beats Two-Face and Clayface, and deciphers all Riddler's clues in a race throughout Arkham, only to get upstaged at the end by Selina; impressed by Babs' chops, Selina hands over the Commissioner's notebook, and in a well-crafted rooftop encounter, Batman tricks Selina into paying Babs some not-so-confidential compliments; my only problem was somehow in the translation Fabian screwed up (or I just completely misunderstood what he was getting at) the numerical code Babs used to maneuver her way to the Riddler, but since the rest of the writing (plot and characterization and dialogue) and the art was SO good, I'll let that slide; LOVED it.
Dessert:

Amazing Spider-Girl #24 -- whew, a lot of stuff happened here, and if you're not familiar with this title, it might just be easiest to stay away until you can catch up on a new arc or back issues, but if you're well-versed in MC2 happenings, it was fun nonetheless; basically, May meets her clone, saves Davida from some Friends of Humanity goons, breaks up with Gene (yay!), fights her clone, can't find her dad (who gets punked by Fury the Goblin Queen), joins the X-People to fight Nucleus (her friend Sara) who she eventually talks down, only to have Nucleus detonated from long-distance by Magneta, catching May in the blast and burying her under lots of rubble, while her clone then takes her place at home; like I said, a lot of stuff happens (and that really wasn't even everything), but DeFalco and Frenz/Buscema keep it all balanced and flowing nicely through their old-school craftsmanship; another fun issue of a title that never lets me down...really enjoyed it.

Enjoy this article? Consider supporting The Outhouse, a fan-run site, on Patreon. Click here for more info.
Comment without an Outhouse Account using Facebook
We get it. You don't feel like signing up for an Outhouse account, even though it's FREE and EASY! That's okay. You can comment with your Facebook account below and we'll take care of adding it to the stream above. But you really should consider getting a full Outhouse account, which will allow you to quote posts, choose an avatar and sig, and comment on our forums too. If that sounds good to you, sign up for an Outhouse account by
clicking here.
Note: while you are welcome to speak your mind freely on any topic, we do ask that you keep discussion civil between each other. Nasty personal attacks against other commenters is strongly discouraged. Thanks!