Based on my lunchtime reading, this appears to be a week chock-full of fairly obvious "surprise" revelations, but that didn't make the meal any less tasty! On to the reviews!
Appetizer: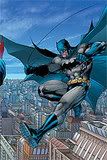 Trinity #18 -- a nice issue setting up the DCU's status quo in the wake of the Dark Trinity's victory; the JSA is now all inclusive and calls itself the JSI, the founders are retired, Green Lanterns are totally interstellar and require specific orders/permission to operate on Earth, Dick Grayson's a member of the Zucco mob (BOO!), Wally is basically Booster Flash, Donna Troy is a regular Jane, Supergirl is called Interceptor and has never heard of Krypton, etc., and Firestorm returns from the antimatter U to find big changes from when he left; in the backup, we see what Gotham would be like without a Batman, in a very nicely done bit by Nicieza, tapping into some seriously old minor continuity; art was great by Bagley & McDaniel, and the setup of the new Earth was fun; Fairly Obvious Revelation: without Clark Kent around, Lois Lane is a ratings-whore and an uber-bitch...color me shocked; really liked it.
Entree: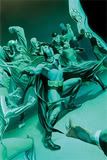 Batman #680 -- well, the writing on the wall is fairly obvious as to Bruce's ultimate fate, as there's NO WAY he has a secret ID after this arc unless some serious mindwipes take place; Dr. Hurt discusses the Club of Villains' "game"; the Commish is saved in Wayne Manor by Talia, Damian, and the LoA; Robin's AWOL; Nightwing's still on the operating table at Arkham, Bats learns that imagination IS the 5th Dimenion, as Bat-Mite fades away; Bats faces the Joker (and figures out most of the clues Joker left him in DCU #0) while Jezebel faces certain death; and the Batman of Zur-en-Arrh gives way to the real Batman just as he faces his greatest loss; Daniel's art is still pretty, but his storytelling needs LOTS of work (granted, a lot of that is probably due to Grant's plotting, but still...); Fairly Obvious Revelation: the REAL Black Glove is not Dr. Hurt, but actually...well, without giving it entirely away, you know how if you name a baby Jeeves, they pretty much HAVE to grow up to become a butler or chauffeur? pretty much the same deal here...; has its problems, yet I'm still LOVING it.
Dessert: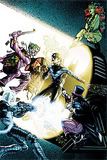 Nightwing #149 -- just about as WTF as Batman, as the R.I.P. "huh?" feeling becomes contagious; Dick fights pretty much the entirety of Batman's Rogues (sort of...all but 1 of them are ordinary goons but Dick "sees" them as Joker, Penguin, etc due to the fear toxin he was dosed with last issue), gets blasted out of the building in a scene I didn't quite get, and overcomes the fear toxin as he falls, only to discover he's ultimately failed, as the real villain has fulfilled his contract and killed Harvey's lady DA friend; Fairly Obvious Revelation: the villain in question is of course Two-Face himself, whose bad side took the hit contract and whose Harvey side enlisted Dick to stop him; kudos to Tomasi for really showing us how crazy Harv is, kudos to Kramer for a gorgeous issue, and while I was disappointed they had Dick fail, I can't wait to see the big showdown with Two-Face next issue; LOVED it.