Geek Readers reviews Uncanny X-Men #1
---
---
Credits & Solicit Info:
Writer: Kieron Gillen
Pencils: Carlos Pacheco
Inks: Cam Smith
Color: Frank C'Armata
Letters: Joe Caramagna
Publisher: Marvel
---
Review:
SPOILER WARNING
The schism is over and after last weeks
Wolverine & The X-Men
#1 we have it's sister book
Uncanny X-Men
#1 making it's debut. Where the book set at the school in Westchester was fun and chaotic, this book is more about being super-heroes.
The introduction in the first few pages I enjoyed, much like the walk-through we were given in
Wolverine & The X-Men
, this gives us the lowdown on what's going on in
Uncanny
's part of the world. Before it dives into Utopia and what Cyclops is up to, we get a glimpse of what Sinister is doing as he starts tampering with the Dreaming Celestial - a giant alien robot standing silent over the city of San Francisco.
On Utopia, Cyclops makes it clear to everyone, including us readers, what his plans are. He has split all of the mutants into teams and the most powerful have been made into his team and dubbed "The X-tinction Team" to deal with extinction level events and prove to the world that mutants are here to be heroes and maybe show them they should be a little too scared to mess with them as well.
For anyone that was bothered by the idea of Storm joining up with Cyclops Gillen does a great job of establishing her role here as she chimes in about staying on the path of heroes and not becoming villains. We also see that someone like Storm, someone that can stand on her own or be considered a leader herself is needed to stand tall next to team members like Magneto, Namor and the other less heroic types.
The story mostly shows the smaller teams doing things around the city to help out with crime or look for mutants while the X-tinction team waits to be needed. Sinister doesn't keep them waiting long as he starts up the Dreaming Celestial and gives them the fight they've been itching for.
There are some great moments and lines of dialogue in this issue, from Cyclops telling the Agent of S.W.O.R.D. that contacts them about the problem "no need to contact the Avengers, if we can't handle it, what chance do they have?" to Emma Frost watching the Celestial's head break away and form into a likeness of Sinister and proclaiming "I've got a nagging suspicion of who may be behind it." During the battle they also do a great job of giving the different team-members their moments and showing Cyclops being a leader of sorts.
I really enjoyed this book. Whilst I wasn't as in love with
Wolverine & The X-Men
as a lot of other fans were, this one was definitely more up my alley. I like the idea of a team of mutants equal with the power level of the Avengers running around, so hopefully they can make it work. Either way, both books have done a great job of establishing different tones and directions, showing that
Schism
was worth it.



Like in Wolverine & The X-Men, we also get a taste of "things to come" for Uncanny: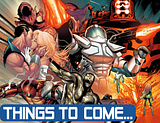 And they had a cool little team chart for all the Utopia teams as well: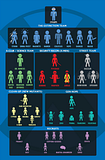 ---
---
Review from thegeekreaders.com





This email address is being protected from spambots. You need JavaScript enabled to view it.


---
Review by: Geek Readers
Enjoy this article? Consider supporting The Outhouse, a fan-run site, on Patreon. Click here for more info.
Comment without an Outhouse Account using Facebook
We get it. You don't feel like signing up for an Outhouse account, even though it's FREE and EASY! That's okay. You can comment with your Facebook account below and we'll take care of adding it to the stream above. But you really should consider getting a full Outhouse account, which will allow you to quote posts, choose an avatar and sig, and comment on our forums too. If that sounds good to you, sign up for an Outhouse account by
clicking here.
Note: while you are welcome to speak your mind freely on any topic, we do ask that you keep discussion civil between each other. Nasty personal attacks against other commenters is strongly discouraged. Thanks!
About the Author - Jeremy Shane
---
Jeremy was born in a small mountain village of a strange foreign land called Weystvurginea.  Banishment for liberal views saw him spend years wondering the east coast until he decided to bike to California.  When he saw how long a trip it was, he drove instead.  Now he's living it up in a low humidity climate, sometimes working on his photography and when not, he writes for us covering books (by way of his blog: Reading Realms), gaming, tv, movies, comics, conventions in the SoCal area, and creates a weekly webcomic: A Journey Through Skyrim.  If you look for him offline, start in the L.A. area; online start at: www.jeremyshane.info for his profile and all the social networks he's on... or just follow him on twitter, he seems to be on there a lot: @jeremyshane.
More articles from Jeremy Shane