on Friday, June 29 2012 and posted in Reviews
The Amazing Spider-Man movie review.

Amazing?! Spectacular?! or just fun?
As always, I will attempt to keep this review as spoiler-free as possible.


I really didn't know what to expect from the latest reboot of the Amazing Spider-man. The previews for the movie looked promising, but early reviews compared the movie to either Twilight or the Christopher Nolan Batman movies. I did not enjoy Twilight, and while I liked Nolan's Batman films, I don't think that tone would be a good fit for the masked wallcrawler. Let's put this baby to rest right now: the Amazing Spider-Man is NOTHING like Twilight and bears little resemblance to the Christopher Nolan Batman movies.
The STORY:
Have you seen the Sam Raimi
Spider-Man
movie? Yes, the one released in 2002. If you are reading this review on the Outhouse, then there's a good chance you've seen the film. If you've seen that film, then you've pretty much seen the
Amazing Spider-Man
. This is not meant to be a negative (at least not wholly). Sam Raimi captured much of what made Spider-Man unique in the comic book universe, and many of the aspects that has made Spidey one of the most enduring characters in our culture. So when tasked with rebooting the Spider-Man franchise, one could do worse than looking at Raimi's vision. The downside to this is that if you're very familiar with the original, this will very much feel like a re-hash. A very good re-hash mind you, but a re-hash nonetheless.
I will not go into any particular story points as the previews do a decent job of outlining the story. One real negative for me is that this is yet another origin tale. The whole movie is the origin of Spider-Man... again. I understand the reasoning behind it, but it would have been nice to get more Spidey and less of "the making of Spidey." Yes, there are differences from the Raimi Spider-Man, and the comic book Spider-Man, and they are very welcome, but there aren't enough to make them feel like a completely different movie franchise.
The TWILIGHT EFFECT:
Some early reviewers have compared this movie to the
Twilight
franchise. I assume this is because of the romance between Gwen Stacy and Peter Parker. They are both romantic tales, but that's pretty much where the similarities end. Marc Webb does a great job of fleshing all the characters out. Peter and Gwen's relationship does not feel forced or designed. This should come as no surprise to people who have seen Webb's 500 Days of Summer. He excels at the portrayal of romance, and its ups and downs. I have no doubt that this will appeal to women, and men should feel safe bringing a date along and knowing she'll be entertained even if she's not as into men in spandex as you are.
Spidey's characterization is a standout in this movie. Andrew Garfield really feels like a different character when he dons the mask. Whereas Peter can be brooding, shy, awkward, sometimes angry or out of control, Spider-Man is definitely portrayed as the other side of Peter. It's not just the jokes or the action, there is a self-confidence evident in the portrayal of Spider-Man that is lacking when the mask comes off. It is also very nice to see Spider-Man cracking wise during fights. This is something that Sam Raimi never quite pulled off. Webb seems to nail it, and my only complaint is that there isn't enough of it.
The COSTUME:
It's not the greatest costume ever, let's start there. But it also shouldn't detract from your enjoyment of the film. There are a few instances where Spider-Man looking like a basketball is distracting, but it's not a big deal. The costume looks good in motion, and it's nice to see web-shooters. The design for the shooters looked as if they could get in the way when production stills were released, but you hardly notice them in the movie.
The VILLAIN:
It was nice to see a new villain, or was it? The main problem with the
Amazing Spider-Man
is the Lizard. He doesn't feel fresh or different, and really offers nothing that we haven't already seen. He is part Norman Osborn (the psychotic part) and he's part Doctor Octopus (the scientist and mentor to Peter part). Overall, however, he is not a compelling villain. There are instances where greater depth is hinted at, but it never comes to fruition. Curt Connors is the same type of villain we've seen time and again. The one positive from this is that not much time is placed on the villain, unlike other superhero movies that tend to become fascinated with the villain at the expense of the hero. This is definitely a Spider-Man movie. The Lizard is the villain, and he is given some face time, but just enough to justify his role in the tale.
Speaking of faces, the cgi on the Lizard was just so-so. I'm sure it was a wonder of technical achievement and it took 300 Korean children 2 years just to animate his tail, but the Lizard never really comes to life. It is serviceable, and it's not as if the animation is bad, but it's not great either. Also, on a design note, the Lizard always seems to have a goofy-looking smile because of the design of his mouth. It's a minor gripe.
The NOLAN Imperative:
I am sure that many people will look at the previews and compare this movie to Nolan's Batman franchise. The previews (and the movie) utilize many night scenes. While this does make the movie "dark", that darkness is pretty much only a lighting issue.
The Amazing Spider-Man
does not feel like
Batman Begins
nor does it feel like
The Dark Knight
. At no time did it feel like Marc Webb was attempting to make Spider-Man more grim or gritty. The tone of the film is very much something one would expect from a Spider-Man film, and honestly considering the kid is in high school most of the day, it makes sense that he's out as Spider-Man during the night. There is also another reason why he tends to go out at night, which is a plausible explanation presented in the film.
The ACTION:
For anyone that thought Marc Webb couldn't direct an action scene, eat some crow. The action scenes in the
Amazing Spider-Man
are incredibly fun to watch. Both the practical effects, and the cgi-laden scenes shine. In the Tobey Maguire
Spider-Man
, there always seemed to be a huge disconnect between practical stunts and those utilizing computer graphics. That was 2002, so that's probably one reason. Even when computer graphics are utilized in the
Amazing Spider-Man
, the character still moves in a practical fashion and it never takes one out of the story. I could have lived without the first person perspective, but it wasn't terrible either.
Overall, this is a very good movie. Had the Sam Raimi film never come out, I would say that this is a great film. It nails the characters, while still injecting something new to them. Andrew Garfield and Emma Stone do fantastic jobs, and Denis Leary is great as the NYPD cop hunting Spidey. Rhys Ifans does a good job as Curt Connors, but the character never really comes to life. He seems like a place-holder for the true villain that we only get hints of. This is a fun tale and a good time at the movies. Every Spider-Man fan should watch it, and bring a date.
8 out of 10 stars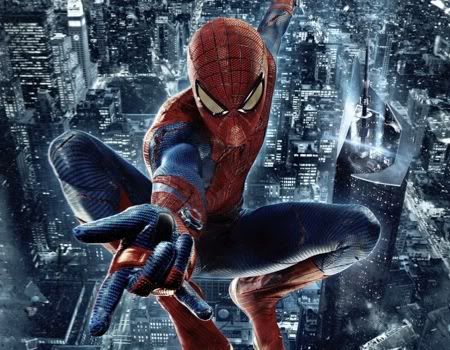 Written or Contributed by: Jon Salwen
~OR~
Comment without an Outhouse Account using Facebook
We get it. You don't feel like signing up for an Outhouse account, even though it's FREE and EASY! That's okay. You can comment with your Facebook, Yahoo, AOL, or Hotmail account below and still interact with the greatest comic book community on the internet! But if you change your mind, sign up for an Outhouse account by
clicking here.
Note: while you are welcome to speak your mind freely on any topic, we do ask that you keep discussion civil between each other. Nasty personal attacks against other commenters are not welcome here. Thanks!