Gregory Anderson-Elysee is a Brooklyn born and based filmmaker (director and editor), playwright, comic book writer, model, and part time actor. He was one of the first writers and interviewers of The Outhouse. He is the writer and creator of the upcoming book Is'nana the Were-Spider. He can be found on Twitter and Facebook.
---
By Greg Anderson-Elysee in Features on February 5, 2010
DC Comic's first black headlining character!
---
By Greg Anderson-Elysee in Features on February 4, 2010
Now here was a fun one!
---
By Greg Anderson-Elysee in Features on February 3, 2010
Beautiful and ohh boy does she know how to use a gun and a collapsible baton!
---
By Greg Anderson-Elysee in Blog on February 2, 2010
For some reason, calling Michael Holt, aka Mr. Terrific III, a prodigy seems like an understatement.At the young age of 6, Colt was already comfortably familiar with the works of Max Planck, Albert Einstein, Richard Feynman, and Aage Bohr. Holt also possesses 14 Ph.Ds, including Physics and Engineering with doctorates and masters in Mathematics, Law, Psychology, Political Science, and Chemistry. He also holds gold medals, being an Olympic Decathlete, and Black Belts in 6 different martial arts disciplines.Michael Holt grew up taking care of his mentally challenged older brother, Jeffrey. At the age of 15, Jeffrey died, devastating Holt. He eventually married a woman named Paula, a day Holt considers his proudest moment. Tragedy struck when Paula was killed in a car accident along with their unborn child. Crushed, Holt contemplated suicide until he was visited by the Spirit of Divine Vengeance, The Spectre who told Holt of the life of Terry Sloan, the original Mr. Terrific. Inspired by the story of Terry Sloan and in memory of Paula and Jeffrey, Holt took up the mantle of Mr. Terrific and decided to use his anger and frustration positively.Using his genius intellect, Mr. Terrific created "T-spheres" that responds to his mental and vocal commands, functioning as a computer, holographic projection, projective weapons including explosives, a means to allow him to fly along with many various other uses. Due to his T-Mask bonded on his face, he is invisible to all forms of electronic detection.Though relatively new to the Justice Society of America, his natural leadership skills led to Terrific getting elected as the chairman of the team, which he lead until the members disbanded for a short while. He was then offered by Green Lantern Alan Scott to take part in rebuilding the agency Checkmate, becoming Bishop to Scott's White King and started a romance with Black Queen, Sasha Bordeaux. The relationship was complicated when Mr. Terrific became Checkmate's new White King when Alan Scott was forced to resign.Mr. Terrific's adventures can be found:JSA vol. 3 #1-currentCheckmate #1-25JSA vs KobraJLA/JSA: Lightning Saga
---
By Greg Anderson-Elysee in Features on February 2, 2010
For some reason, calling Michael Holt, aka Mr. Terrific III, a prodigy seems like an understatement.
---
By Greg Anderson-Elysee in Blog on February 1, 2010
Man, remember when this was also suppose to be a blog where I also focus on comics I like, heh heh? Been far too long...http://www.theouthousers.com/content/view/6388/203/BladeOne of the most popular comic book characters in the mainstream due to the portrayal of the titular character by Wesley Snipes in Blade, Blade 2, and Blade Trinity and then reprised in the Blade television show by rapper/actor Kirk "Sticky Fingaz" Jones. Blade is a man on a mission, set on ridding the world of the undead, of vampires. One thing though: he's half vampire himself. Born Eric Brooks, on the night of his birth, vampire Deacon Frost disguised himself as a doctor only to feed on his mother, Tara. When Tara died from the attack, Deacon's vampire abilities passed onto Blade, giving him the strength and superhuman abilities of his sworn enemies. Yet at the same time in a strange event, the newborn Blade was sparred of the weaknesses attributed to vampires including garlic, sunlight, crosses… all leading to the nick name: Day-Walker. As a child he was trained by Jamal Afari, a trumpet player also with a vendetta against the undead. Blade quickly gained the skills to successfully become a vampire slayer, with skills surpassing Olympic level athletes and excellent hand-to-hand combat combined with an amazing talent of weaponry ranging from wooden knives to swords to guns.Created by Marv Wolfman and Gene Colan, the character made his debut in Tomb of Dracula #10 (July 1973) as an enemy of "protagonist" Dracula. Blade was a hardcore, nails to the wall bad-ass, letting nothing get in his way while he took down vampire after vampire. Over the years, the character has had multiple short-lived series where he continued his blood lust hate for vampires and demons of various kinds, fighting his "creator" Deacon Frost, Morbius the Living Vampire, and of course Dracula. He has teamed up, on many occasions, with the likes of Dr. Strange, Ghost Rider, Brother Voodoo, Hannibal King, and Spider-Man. He even formed an alliance with supernatural heroes, dubbing themselves the Darkstalkers, in hopes of protecting the innocents from evil.Recently, Blade was seen leading a black ops-team named Vanguard, with Black Widow, Dominic Fortune, and Micromax. Shortly after, he joined with Captain Britain and his mean of MI:13 members where he helped fight Plokta and his army of Mindless Ones and once again his long standing opponent Dracula. While with the MI:13, Blade's blood lust of vanquishing vampires led him to staking team member Spitfire who was secretly a vampire. After being saved, Spitfire has had numerous fights Blade which surprisingly led a romance and connection between the two which quickly blossomed. They have been together ever since.Blade adventures can be found in:Blade: Black and WhiteTomb of Dracula Essentials Vol. 1, 2, and 3Blade: Undead AgainBlade: Sins of the FatherCaptain Britain and the MI:13: Hell Comes to BurminghamCaptain Britain and the MI:13: Vampire StateBlade, directed by Stephen Norrington starring Wesley SnipesBlade 2, directed by Guillermo del Toro starring Wesley SnipesBlade: The Series starring Kirk "Sticky Fingaz" Jones
---
By Greg Anderson-Elysee in Features on February 1, 2010
One of the most popular comic book characters in the mainstream due to the portrayal of the titular character by Wesley Snipes in Blade, Blade 2, and Blade Trinity and then reprised in the Blade television show by rapper/actor Kirk "Sticky Fingaz" Jones.
---
By Greg Anderson-Elysee in Blog on January 28, 2010
Ugh, I'll try my best not to cuss through out this review... ah, fuck it. FUCKING TERRIBLE! This movie was beyond garbage. GAR-BAGE. This movie was such a complete waste of time that I pray to all that is holy that whoever sees this review steers clear of this movie. Hopefully anyone who isn't even reading gets some kind of force to steer them clear because this movie is a complete waste of time. Don't be tricked by the 3D special effects. This movie has no point to its production except to annoy me. The plot was nearly non-existent, no believable characters or character beats, on top of more and more crap. Why oh WHY did they continue this franchise? The first movie I felt was a solid film and stands well on it's own. The second was a decent follow up. The third they should have stopped right there. Terrible film the third one was but it wasn't as much of a piece of stinking maggot filled turb that this film was. Usually with a film I don't like I'd find something redeemable or likable about it whether it's camera work or a specific shot, or a specific character or actor or SOMETHING! This film doesn't have any of it. There's not even an awesome cameo by the great Tony Todd! Skip this piece of crap, please.PLEASE!
---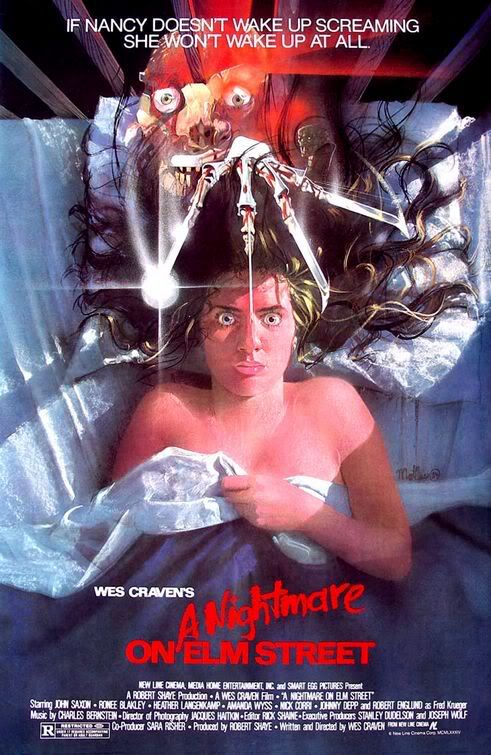 By Greg Anderson-Elysee in Blog on January 20, 2010
Let me be first to say that although I am a Robert Englund fan, I wasn't always a Freddy Kruger fan. Since I was a kid, I never got too much of the appeal of these films. I knew they were a HUGE favorite for horror fans, but I was never enthusiastic to watch Freddy films. Now I have seen a few, many I can't quite remember except for specific scenes. About a week or so ago I watched 2.5 Freddy films and feel I was maybe a bit too hard on the it. Some time last year I tried to watch the first A Nightmare on Elm Street and really couldn't get into it at all. I felt it was fairly laughable and nothing grabbed me. Upon watching it again, I found myself finally getting into it. The characters were all there and the premise was in fact strong. As to why I had a dislike for it, I can't possibly say. The premise has such strong potential and a lot of promise for stories and the first did a rather decent job with that. A mysterious, burnt killer with knives for a hand invading your dreams is completely horrifying, especially for the fact that when he kills you in your dreams, you die in real life too. Upon finally giving this film another shot - a fair shot - I felt the movie franchise would have been extremely strong without the pointless sequels. Now, the third part of the series, Dream Warriors, had some great ideas and itself was a fine film, the series could have done without sequels period. The first film was a solid horror tale and by itself would have been a solid footnote of a scary movie.Visually, this film was very well made, especially blurring the lines between dream and reality, creating some surreal scenes. Examples being the first victim's death, Freddy's various appearances, among other things. My favorite scene would surely be when Nancy, the film's protagonist, is asleep and Freddy's figure begins to slowly come forward through the wall atop her bed. Very creepy scene and very well done. Visual-wise, I'm actually looking forward to see what kind of nightmares and special effects are used for the up-coming remake despite my dislikes for the current remake genre. My biggest complaint also for the film was in fact the use of music. I felt most of the music used for this film were very poor choices and could have highly improved the creepiness of the film if a more subtly creepy type score scheme was used. The main musical theme is very good, but other musical pieces in other scenes I found to be quite jarring and sometimes nearly took me out of the scene.A Nightmare on Elm Street is a creepy fun movie that stands rather well on it's own. I'm glad I gave it another fair shot after all this time of un-interest and somehow completely disliking it last time I watched it. Heck, I didn't even bother to finish it last time. But hey, if you're like me about this franchise, give the first film a fair viewer. You may like the interesting premise and may in fact like Freddy himself. The character works better as a sinister and creepy monster then the wise-cracking joke-ster he ended up being as the franchise went on. And here's hoping the remake does some justice. I'll try to give it a benefit of a doubt.Directed by Wes Craven.
---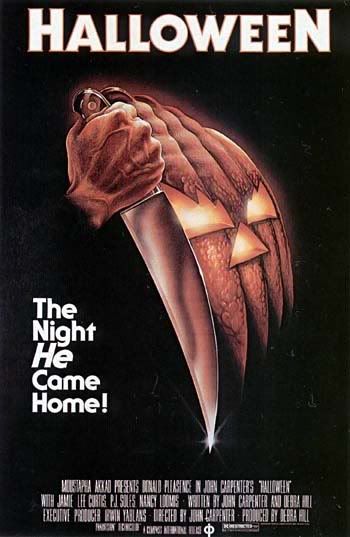 By Greg Anderson-Elysee in Blog on January 16, 2010
Another wonderful classic. I'm glad I'm seeing this now. Don't ask me why, but I just am. John Carpenter directs an extremely creepy and well made craft of a little horror tale about a psychotic stalker with a weird mask on his face as he kills through local town teenagers, his target baby-sitter Laurie, played by Scream Queen, Jamie Lee Curtis. Besides that little tid-bit, there isn't too much to say of the plot for this movie. That synopsis is pretty much it along with a psychologist roaming the town in search of stopping this psychotic killer, Michael Myers. Jamie Lee Curtis, following her mother's horror footsteps, does a fine job as the very likable Laurie as she struggles to combat Myers who just keeps on coming back from whatever you dish at him.My absolute favorite aspect of this film is just how darn creepy this film is just how simple it is. Great shots, great use of space and raising tension, good use of a creepy musical score, and VERY minimal amount of blood. Now, I know people may get annoyed at my annoyance with people's disapproval of horror films with no blood and gore, but here is a classic slasher horror film that doesn't rely on gore or blood whatsoever. Heck, I can't even think of any blood in this film. There's a lot more to the craft of horror then just blood and guts and I wish modern horror fans would get that into their heads. But dammit, let me not rant about this... The atmosphere and tone produced int his movie is very much masterful and pushes forth an insane amount of creepiness that still resonant to this day watching this film. The movie overall looks beautiful.Besides a bit of a flat ending, this is a great film I'd highly recommend. I'm not a huge fan of the slasher genre, but this here is one of the very first slasher horror films that started such a great trend and it's well deserved of all the craze and acclaim this simple film gets.
---