Gregory Anderson-Elysee is a Brooklyn born and based filmmaker (director and editor), playwright, comic book writer, model, and part time actor. He was one of the first writers and interviewers of The Outhouse. He is the writer and creator of the upcoming book Is'nana the Were-Spider. He can be found on Twitter and Facebook.
---
By Greg Anderson-Elysee in Blog on October 11, 2009
Most over-hyped film in recent years or does it live up to it? Honestly you'll have to see for yourself, but for me personally I'm definitely in the middle. Now not to say I didn't enjoy it, I enjoyed the hell out of it. But when I hear people deem this as the scariest movie made in decades, I have to stop and ponder... and it is rather hard to think of a truly terrifying great movie recently, all I could think about are Drag Me To Hell and Coraline (not really terrifying, but put yourself in Coraline's shoes and view it as a lil' kid, you'll piss your pants!). But yes, this film is a mockumendary directed by Oren Peli starring Katie Featherston and Micah Sloat as a couple who decides to video document strange occurrence in their house. We are presented through this story through the video documents taken by the characters.We begin the movie with Micah testing out his new video camera then meet his girlfriend of three years, Katie, as we watch them all lovey-dovey on a normal day. As to why Micah has the camera, Katie reveals to us a little later that she's been haunted by a strange entity since childhood. One day while asleep with her sister, she noticed a big black mass standing at the foot of her bed. A few days later her home burned down. A few years later the same entity haunted her and and this time it was happening again now that she was happy with her new wise-cracking boyfriend. The characters are fairly likable which is a plus to have when you make a horror movie, but Micah is definitely the character that gets you irritated watching the movie as he's warned against certain things such as antagonizing the entity and thus making things worse than it could have been. Note to everyone: DO NOT MESS WITH OUIJA BOARDS!So yes, the movie documents about two weeks of strange occurrences that includes load banging sounds and creaking doors and lights flickering. Each night is a lil' more and a lil' more and tension grows as you're not sure what to expect next despite quite a few scenes being fairly predictable. The slowness and gradual build-up really grasps you until things really start unfolding finally. The director did a wonderful job growing suspense and using time and quietness to his advantage. It's really refreshing to see how a low-budget movie done in seven days can get you uneasy with hardly much special effects. I also see this as a way of getting into "horror fans" heads who only believe that a good horror movie should be rated R with a ton of gore and tits. If this movie had eliminated all the cursing, it could have definitely been a PG-13 movie and still frighten the viewers it's been frightening. And speaking of, I enjoyed hearing girls scream their asses off and panic through the movie. Now some scenes I felt weren't too strong to fully get me to jump or be fearful, but I did have a hell of a good time watching this film. I felt it was well made and may not be a top favorite of mine, but it's good money spent and good to watch with some buddies. Hell, bring your girl friend. I shoulda done that. Heh... there's always next week or so... But yes, in the end I could have done without the final second or two of the movie as I felt it was a tad cliche but a way of Peli having some fun. So go have some fun with Peli and others and allow yourself to enjoy this good horror film. Don't put too much thought about if this will live up to the hype. Just go see it.But I do have to ask, though... people really threw up watching this movie?
---
By Greg Anderson-Elysee in Blog on September 16, 2009
A recreation of Annie Hall that I helped some friends do. I'm the dude in the film. Weird seeing me act...A Motherf***in' Rat from Lucas on Vimeo.
---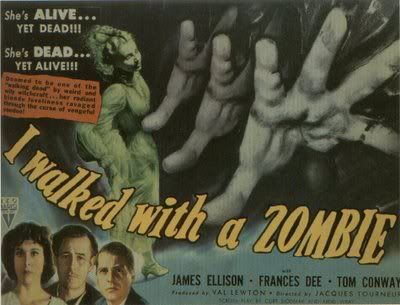 By Greg Anderson-Elysee in Blog on September 16, 2009
I Walked With a Zombie was a 1943 movie directed by Jacques Tourneur and produced by Val Lewton. A common thing about Lewton's films were that he had a title and had to make a story around that title. This was one of them. The movie is about a Canadian nurse, Betsy Connell (played by Frances Dee) who gets hired to watch over an ill woman named Jessica Holland (Christine Gordon), wife of Paul Holland, a sugar plantation owner in the Caribbean island of St. Sebastian. In the first night she meets Paul (Tom Conway) who warns her that the beauty she sees in this island is really misery and death, his brother Wes, Alma the maid, and Jessica who walks zombie-like to the protagonist at the dead of night frightening her and beginning the problem of the story. Betsy is told that a tropical fever had caused the strange case of Jessica's condition but underneath it may in fact be a supernatural cause to this. After a few nights of Jessica's condition not improving, Betsy becomes desperate and searches other means: finding a houngan, the local Vodou priest to help her recover. When she reaches the village, a mob of Vodou practitioners approach Jessica, stabs her with a sword and sees that she doesn't bleed, thus revealing her state as a zombie. This then leads to many other complications as the film goes on with Jessica's condition and a Vodou priest getting involved in trying to recover Jessica for whatever reasons.Now I will say that although not much happens in this movie, I had a delightful time watching it. It could be my bias as to my recent interest in the religion of Vodou, but I was intrigued into this film since the beginning till the end. The atmosphere and mood of everything was very chilling and engrossing. The characters all stood out very well, even if they weren't main characters. I especially loved the depiction of the black characters in the movie. For a film done in 1943, I was expecting some random offensive depictions, for example the maid and Vodou practitioners, but I was surprised to see them depicted quite well.A few aspects had caught me by surprise, though, that got me intrigued. One being the scene when Betsy travels with Jessica through a mysterious field to reach a Vodou ritual. As they move deeper and deeper, the scene gets creepier and creepier and very tense until we meet Carre-Four, an actual zombie who appears throughout the film in very creepy fashion. The scene caught me entirely off guard and would scare the living hell out of me if I were in her shoes. But the thing that got me was that Carre-Four was explained to be a guardian of the crossroads and that you wouldn't be able to pass through him without a Vodou badge, which Betsy had lost on her way there. Carre-four just walks away, letting them pass. After that, we see Carre-Four being controlled by a Vodou priest to retrieve Jessica. Now what got me questioning this was that ever since hearing "Carre-four" was in this movie, I was expecting to see "Kalfu" which was pronounced the same. Kalfu in the Haitian Vodou religion is a god and not someone to mess with, the Lord of crossroads and known as the grand daddy of sorcery and black magic while he allows bad luck and destruction. There was no way in hell Kalfu would allow a Vodou priest to control him as a zombie. It was until I did a bit of research of the movie and saw the name was used mostly as a nod to him. I will say, though, Carre-Four was creepy as all types of hell in this movie. Especially when he creeps towards us, arms wide-open... sheesh!Another scene I especially loved was when Betsy found the village and the locals were singing in actual Haitian dialect. That made me proud, oh yes, especially hearing that the film-makers did a big bunch of research, even hiring actual Vodou practitioners and Vodou musicians. But something did get me later... the use of a Vodou doll. So I'm guessing it was this film that gave Vodou dolls a bad name, huh? The Vodou priest begins to use a Vodou doll to control Jessica and later causes things to happen while in control of her. Now, from what I understand, Vodou dolls have nothing to really do with Haitian Vodou but with Louisiana Vodou and is actually used to bless and protect people, not control or do harm. Thanks, Hollywood. Heh.So yes, throughout the movie, there is a constant sense of questioning where all this is going to go. You're not too sure which characters will do what or how they'll act out through the movie. There's simply a sense of not knowing anything, who's to blame, who's the villain, etc. That definitely gives the movie a big plus from me with the ambiguity as questions are left unanswered in some way despite there being... well, let me stop before I spoil something. But overall, definitely watch this movie. I especially loved the depiction of zombies- not the cannibalistic superhuman monsters we're used to now, but the monsters that are easily controlled and aren't too frightening, but you sure as hell don't wish it to happen upon you. Although Carre-Four is scary as fudge. Watch this for Carre-Four!edit: Oh yes, I also read that the Saw creators are planning on remaking this movie... WHY?!? PLEASE DON'T!!! NO!!!!
---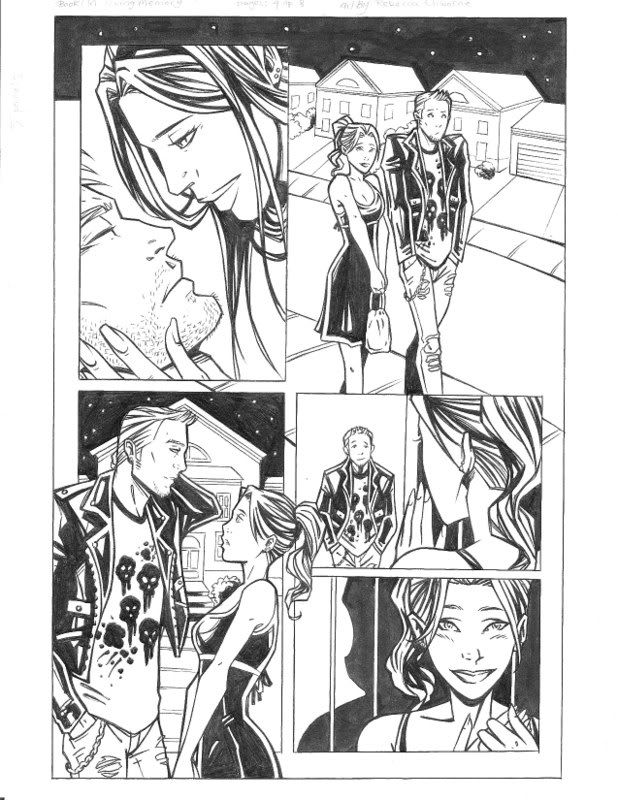 By Greg Anderson-Elysee in Blog on September 14, 2009
http://comicdiversity.atspace.com/Loving%20Memory%20Interview.htmlAs mention, part of this website mission is to unleash hidden talent for the world to see. To expose goldmines regarding stories and art that might be tucked away from the general public. For our second interview, we've contacted Greg Anderson who recently published a short story within an comic anthology called Loving memory. let's get this interview started. So can you tell us what the name of your published piece is called and what it's about? Hey, it's great to be here. The name of my piece is In Loving Memory... and could be found in an anthology called RX Tales: Stories To Make You Feel Better! published under MC Studios. It's a very short story, about 8 pages, of a woman speaking to her comatose husband to awaken. There's a bit of a reversal at the end which I won't spoil. It's also drawn by Kotsu, a fantastic artist from Jersey. We were very fortunate to find her. Wow, that's pretty deep. So did you have plans to expand this into a mini series or was this going to remain as just a one shot? Always meant to be a one-shot deal. I tend to leave some of my short stories with a bit of a cliff-hanger which I developed through my love for reading and writing horror stories but this was a one-shot story and not horror, but a complete love story. I see, so how exactly were your approached with this opportunity, did they come to you? Nepotism. Heh, nah, just something my cousin-in-law, George Hartman, and I started discussing. George is a big comic geek and whenever there's a family reunion we're to the side just talking about comics. One day he told me he was putting together an anthology that focused on hospitals, whether it be doctors, nurses, patients, etc ranging from all types of genres. He asked if I wanted to contribute and there was no way I was going to pass that up. I at first wanted to write a horror story but decided to challenge myself and write something else out of my element and I have to say I loved how it turned out. Wow, and how was that for you? As an aspiring artist, I can definitely admit it's a daunting task to work outside your element. Did you feel you did it successfully, and how did you feel about the finish product of your writing? It was great. Although I'm mostly a bit of a horror writer, I definitely try and love to dabble in other genres. There's usually a good bit of comedy and character moments I love to put into my writing. Even if a work isn't horror, I've added at least a very small element or supernatural thing to it. But I do like to challenge myself as a writer. Sometimes it's a little hard for me to step out of my element, but that's usually when it comes to poetry. When writing scripts, I could come up with anything of whatever genre/topic, but tell me to write a poem, it'd usually come up quite morbid, haha. And I swear it's not intentional. When I do try to write poetry out of my element, you could tell it comes off a bit forced but it's something I'm trying to cross as I don't feel depressed, least not for the past few years, But I think it's one of those things where it's said pain makes good art. I tend to only write poetry when I'm down. Only a few times I've written poetry in a good ecstatic mood... I just may do that right now... So tell us a bit about the artist. How did you find her and do you feel she captured your script the right away? How did it feel to see your creation come to life? The artist is Kotsu. A girl from New Jersey and a damn good artist. Funny, she's also more of a horror fan from her love for zombies. It was George who found her in time to do the art for my script. After locking her in, George sent me a link to her myspace and deviant art and I was excited. What was funny was that her and I were already friends from myspace, but never interacted. When George sent the first batch of preview pages to me, I was the giddiest school girl you'd ever see. I was speechless for a while with a twinkle in my eye. I was truly beyond ecstatic to see something of mine produced into such good artwork. I printed a few pages out and showed it off to some friends and folks at my comic shop, haha. I feel she truly helped bring the story to life, especially the flash back scenes of the main characters' date. I was also very excited to meet her at the Mocca Fest a few months back. Sadly I didn't get to take a photo with her or have her sign my copy of the anthology. . Wow, the art does appear very impressive. So how have sales been so far, and for those that maybe interested in this anthology, how can they purchase it? Well, I don't know much about overall sells, but the one day I was at the Mocca Fest promoting, we did sell a good amount. I know George was able to sell a lot more the days I wasn't there. Anyone interested in purchasing a copy could get one by e-mail George at \n This email address is being protected from spambots. You need JavaScript enabled to view it. . Just leave a subject topic indicating RX Tales. Excellent, so now we have an avenue for those interested in the anthology. So how much is the price of the anthology, and what are you currently working on? It's $3, so pretty cheap. Currently I'm mostly working and focusing on school. Planning on turning one of my comic scripts into a thesis film, hopefully half live-action/half animation. Fingers crossed on that one. Beyond that just writing scripts as practice. But George is planning on another anthology which I've written a script for. This time a horror, heeeh heeeeeehhhh...... So we definitely know what to expect from you in the near future lol. Thank you so much for conducting this interview with me. Do you have last words for our readers out there? Eat a roach.
---
By Greg Anderson-Elysee in Blog on September 8, 2009
"Icon is that rarest of creatures -- a well-told adventure story that achieves genuine political depth. Highly recommended."-Alan Moore (writer of WATCHMEN)ICON: A HERO'S WELCOME TP NEW PRINTINGWritten by Dwayne McDuffieArt by M.D. Bright and Mike GustovichCover by Denys CowanThe flagship character from Milestone Comics is back in this new printing of the classic title collecting Icon #1-8. This is the title that introduced Augustus Freeman, a successful lawyer who covertly uses his alien super-powers to help those in need. But when a teenaged girl from the streets convinces him to use his abilities to inspire his people and becomes his sidekick, Rocket, the affluent Augustus embraces his true destiny and becomes Icon, the hero of Dakota.Advance-solicited; on sale September 30 • 192 pg, FC, $19.99 US
---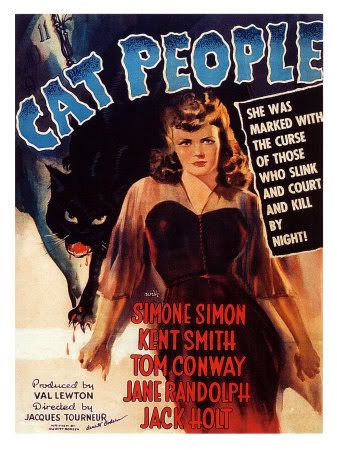 By Greg Anderson-Elysee in Blog on September 7, 2009
For this semester in school, I enrolled in a film class showcasing horror movies by Val Lewton and Jacques Tourneur. The first movie we watched was 1942's Cat People. It was directed by Tourneur and produced by Lewton. The movie stars Simone Simon as Irena Dubrovna and Kent Smith as Oliver Smith. The film focuses on these two stars as they play a couple who meet at a zoo, fall in love, and get married. But there lies a problem. A problem in which Irena fears that if there were any moment of passion, even a slight kiss, she would turn into a cat and kill her lover, a curse that was passed on in her old village of Serbia. Oliver struggles to love Irena as he continues to try to convince her that it's all in her mind while Irena pleads against it and grows jealous of her husband's budding friendship with co-worker Alice, played by Jane Randolph. Tom Conway plays Dr. Louis Judd, a psychiatrist who tries to help Irena get through her fears but also starts to develop feelings for her.A continuing point that gets made in my class, starting from the supernatural class I took over the past summer, was that horror - usually films of the supernatural - dealt with the eruption of the repressed, usually sexuality. This is showcased in films like The Innocents (my favorite horror film) and also in this movie. In this movie, if Irena's frigidity or passion is unwrapped, the horror comes out. Underneath, this film is about a woman unable and afraid to express and develop her sexuality. This is one plot point that makes it a very interesting movie to watch, as we begin to wonder if Irena isn't in fact crazy.This wasn't my first time watching this movie. I had seen it previously during the summer and wasn't entirely sure how I felt about the movie. To me it was very slow but I did enjoy parts with Irena freaking out and her scenes with animals who all seem to have a sixth sense and would react wildly around her. One particular scene with a canary gets a good chuckle out of me and people who watch it. Second time watching, while I still felt was a little slow, I was more into the movie. Despite having over 90% over at Rotten Tomato, I do feel that watching this film may be a required taste for people use to watching movies of the now. But who knows, maybe there are some who'd enjoy it. Though I'm not too sure who among my friends would sit through it.Another note about the movie: it was the first to use the horror technique bus. From wiki..."Lewton and his production team claim credit for inventing the popular horror film technique called the "bus". The term came from the scene where Irena is walking behind Alice; the audience expects Irena to turn into a panther at any moment and attack her. At the most tense point, when the camera focuses on Alice's confused and terrified face, the silence is shattered by what sounds like a hissing panther—but it is a bus pulling over to pick her up. After the excitement dies down, the audience is left uncertain whether anything supernatural or life-threatening actually happened. This technique has been adapted into a great many horror movies since then. Anytime a movie creates a scene where the tension rises and dissipates into nothing at all, merely an empty boo!, it is a 'bus'."Nice.
---
By Greg Anderson-Elysee in Columns on September 7, 2009
Preview art from the upcoming Olympus #4 from Image Comics, by Nathan Edmondson and Christian Ward.
---
By Greg Anderson-Elysee in Blog on August 24, 2009
Wow, did I have a good time watching this movie. This is a movie I've been wanting to see for years but never to any avail. I this past weekend I caught this with my brother and god-brother after watching Blacula also for the first time and felt this movie lived up to my expectations. Yet at the same time I didn't know much of what to expect with this movie. I just knew I'd be into it due to Gary Oldman playing Dracula and Anthony Hopkin as Van Helsing. Get Winona Ryder as Mina Murray to round off the ensemble cast and sexy Monica Bellucci as one of Dracula's three brides. The movie begins in the past during the Turkish invasion where Vlad The Impaler (Oldman) defeats the invasion to come back and find his wife (Winona Ryder) had committed suicide after false news of her husband's death. Vlad, feeling betrayed by God after fighting for his cause and finding out his wife's soul was damned to hell, curses Him and the church and swears the rise up with all the powers of darkness.Centuries pass and Jonathan Harker, a law clerk played HORRIBLY by Keanu Reeves, travels to Transylvania to Count Dracula's castle to arrange the transfer of Carfax Abbey in London, Dracula's current real estate acquisition. During Harker's stay at the castle is where I really fall for the movie. Shadows of Dracula never match the vampire himself, often moving slowly or making a violent movement among many strange things. The visuals of this movie are astounding and really gets you on the edge. Just for the visuals alone you can't help but fall in love with the movie. As the stay progresses, Dracula sees a picture of Harker's beautiful wife, Mina Murray, who looks exactly like Dracula's deceased wife. As Dracula plots to go to London in search of Mina, Dracula's three wives feed on Harker and force him into intercourse, leaving him too weak to escape. The scenes with the vampire brides are also very beautifully done.When Dracula arrives in London, he meets Mina, falls in love with her, and effectively seduces her. At the same time, he also entices Mina's best friend, Lucy, turning her into a vampire and leading the other characters of the movie to take notice of this strange occurrence going on and thus introducing us to Van Helsing, played bad-assly by Sir Anthony Hopkins. The scene where Lucy gets glamored by Dracula as she travels through a maze in search of him with her long red dress flowing in the windy night once again strikes you as amazing and just entices you to keep watching. The scene goes into a shocking climax when Lucy is found having sex with a humanoid wolf.Now as I may praise this film, there are aspects of it where I felt could have improved. The plot seem to move very fast and there really was no moment to breathe. The movie progressed fast and got stranger and stranger, but not enough to have you fall off. In a way, I felt the movie could have been longer to help develop some more, but overall the movie itself was a good winner. The ensemble cast, besides Keanu Reeves in his worst performance EVER, were all great in their roles, Oldman definitely taking the title role and having you care for him despite being the villain and Sadie Frost playing the flirtatious and dangerous Lucy. I'd definitely recommend this movie to any horror fan with an eye for visual beauties. As stated before, the visuals along are enough to watch and enjoy the movie. The make-up for the vampires, most particular Oldman as an old and pale and beautifully ugly creature is massively impressive. Overall this movie was very much like watching someone take full advantage of all the resources and money to make a childhood dream film.Directed by Francis Ford Coppola.
---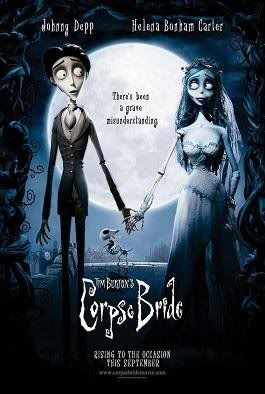 By Greg Anderson-Elysee in Blog on July 25, 2009
Directed by Mike Johnson and Tim Burton, The Corpse Bride is a fantastic stop-motion film filled with wit and eye-popping fun. The movie takes place in a Victorian era town where a young and shy young man named Victor, a fish merchant's son, is arranged to get married to Victoria, the daughter of soon to be penniless aristocrats. Both are worried of meeting each other in fear that they wouldn't like each other but hit it off rather well as compared to their parents respectively. During their wedding rehearsal, Victor stumbles upon his vows and accidentally sets Victoria's mother's dress on fire. He is threatened by the pastor to learn his vows, setting Victor off to run away into the woods to practice his vows. Suddenly, he recites it perfectly with a new sense of confidence and places the ring onto a stick resembling a hand, only for the hand to grab Victor's arm and reveals itself to be the hand of a corpse. Frightened, Victor attempts to run away to safety only to be followed in an extremely well down scene which would scare the hell outta me if I were in his shoes. The corpse takes Victor to the Town of the Dead where, well... every one's dead. And as compared to everyone living, they're happy. Here we learn the back-story of the Corpse Bride, named Emily, and of her "fate" to be set free when she finds her truly love, this being Victor. Thus introducing us to the problem of the film for our protagonist: Does he pick Victory or does he stay with Emily, who unlike a real corpse is very clever, funny, free-spirited, and beautiful.Voicing Victor is Burton's main man, Johnny Depp, who gives a wonderful performance as the clumsy protagonist in love with Victoria, voiced by Emily Watson. Helena Bonham Carter voices the titled character and we're rounded off by other cast favorites the likes of Albert Finney as Victoria's father, Michael Gough as Elder Gutknecht the elderly skeleton with knowledge of magic, and Christopher Lee as Pastor Galswells. For me, though, it's definitely Lee and Gough who steal the show. It's a ton of fun seeing old school horror alumnus voicing such hilarious characters, their voice being extremely recognizable that I have to have a smile on my face, especially when Gough recites the line, "Now, why go up there when people are dying to get down here? " which never fails to get a chuckle from me.The animation is amazing. Every time I watch this movie I'm amazed at just how far stop-motion filming has come. I stated before back in my Coraline review that I tend to prefer stop-motion animation over plain old CGI film-making and it's because it seems to have this really raw and gritty feel to it. It feels a bit more real to me in a sense. The colors in this movie, although low-key, really help put you into the movie too. Especially when you get to the Land of the Dead. The Land of the Dead is vibrant and always has skeletons ready to have a blast singing a song as compared to the Land of the Living where everyone is slow and dull and the lighting is bland. It's extremely entertaining watching all the civilians of the Dead town getting excited and ready to throw a party over a new arrival. And speaking of song, who doesn't love Bonejangles song about how Emily came to be the Corpse Bride, The Remains of the Day? That specific song number is enough to watch the film. Danny does a great job with the raspy jazzy skeleton who loves a woman with meat on her bones. I have to say, though, besides that song, the other numbers aren't quite as memorable. Especially compared to the wonderfully memorable tunes of The Nightmare Before Christmas. When one starts watching this movie for the first time, they can't help but start comparing both films. I will say, though, try your best not to. When I first watched this movie, I couldn't get into it because it wasn't The Nightmare Before Christmas. When I watched it again, this time seeing it as it's own movie, I enjoyed it immensely.From watching this film you could tell every one probably had a great time. And it helps as it's a really enjoyable film. I was able to talk my mom into watching this movie as she tends to disregard films of this nature and she caught herself really getting into it and finding a lot of scenes hilarious. It's in fact a fun family movie, although I have a feeling some parents, particular with strong Christian faith may not want their child seeing a film of this nature. Just my two cents with that. Only real complaint from me was that I felt it could have been a longer film. Would have enjoyed more fun, but hey. You get what you get, least it was entertaining.
---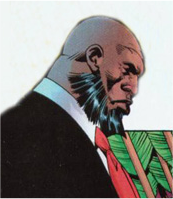 By Greg Anderson-Elysee in Columns on July 24, 2009
Once again I complain about the claims of racial agendas, this time with contrived homos! Hey look, gay and black superhero Josiah Power!
---