Gregory Anderson-Elysee is a Brooklyn born and based filmmaker (director and editor), playwright, comic book writer, model, and part time actor. He was one of the first writers and interviewers of The Outhouse. He is the writer and creator of the upcoming book Is'nana the Were-Spider. He can be found on Twitter and Facebook.
---
By Greg Anderson-Elysee in Columns on September 7, 2009
Preview art from the upcoming Olympus #4 from Image Comics, by Nathan Edmondson and Christian Ward.
---
By Greg Anderson-Elysee in Blog on August 24, 2009
Wow, did I have a good time watching this movie. This is a movie I've been wanting to see for years but never to any avail. I this past weekend I caught this with my brother and god-brother after watching Blacula also for the first time and felt this movie lived up to my expectations. Yet at the same time I didn't know much of what to expect with this movie. I just knew I'd be into it due to Gary Oldman playing Dracula and Anthony Hopkin as Van Helsing. Get Winona Ryder as Mina Murray to round off the ensemble cast and sexy Monica Bellucci as one of Dracula's three brides. The movie begins in the past during the Turkish invasion where Vlad The Impaler (Oldman) defeats the invasion to come back and find his wife (Winona Ryder) had committed suicide after false news of her husband's death. Vlad, feeling betrayed by God after fighting for his cause and finding out his wife's soul was damned to hell, curses Him and the church and swears the rise up with all the powers of darkness.Centuries pass and Jonathan Harker, a law clerk played HORRIBLY by Keanu Reeves, travels to Transylvania to Count Dracula's castle to arrange the transfer of Carfax Abbey in London, Dracula's current real estate acquisition. During Harker's stay at the castle is where I really fall for the movie. Shadows of Dracula never match the vampire himself, often moving slowly or making a violent movement among many strange things. The visuals of this movie are astounding and really gets you on the edge. Just for the visuals alone you can't help but fall in love with the movie. As the stay progresses, Dracula sees a picture of Harker's beautiful wife, Mina Murray, who looks exactly like Dracula's deceased wife. As Dracula plots to go to London in search of Mina, Dracula's three wives feed on Harker and force him into intercourse, leaving him too weak to escape. The scenes with the vampire brides are also very beautifully done.When Dracula arrives in London, he meets Mina, falls in love with her, and effectively seduces her. At the same time, he also entices Mina's best friend, Lucy, turning her into a vampire and leading the other characters of the movie to take notice of this strange occurrence going on and thus introducing us to Van Helsing, played bad-assly by Sir Anthony Hopkins. The scene where Lucy gets glamored by Dracula as she travels through a maze in search of him with her long red dress flowing in the windy night once again strikes you as amazing and just entices you to keep watching. The scene goes into a shocking climax when Lucy is found having sex with a humanoid wolf.Now as I may praise this film, there are aspects of it where I felt could have improved. The plot seem to move very fast and there really was no moment to breathe. The movie progressed fast and got stranger and stranger, but not enough to have you fall off. In a way, I felt the movie could have been longer to help develop some more, but overall the movie itself was a good winner. The ensemble cast, besides Keanu Reeves in his worst performance EVER, were all great in their roles, Oldman definitely taking the title role and having you care for him despite being the villain and Sadie Frost playing the flirtatious and dangerous Lucy. I'd definitely recommend this movie to any horror fan with an eye for visual beauties. As stated before, the visuals along are enough to watch and enjoy the movie. The make-up for the vampires, most particular Oldman as an old and pale and beautifully ugly creature is massively impressive. Overall this movie was very much like watching someone take full advantage of all the resources and money to make a childhood dream film.Directed by Francis Ford Coppola.
---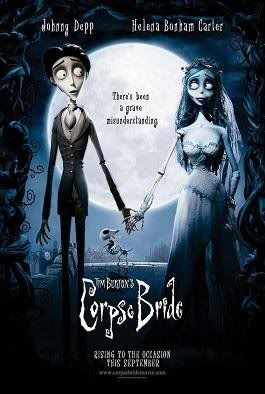 By Greg Anderson-Elysee in Blog on July 25, 2009
Directed by Mike Johnson and Tim Burton, The Corpse Bride is a fantastic stop-motion film filled with wit and eye-popping fun. The movie takes place in a Victorian era town where a young and shy young man named Victor, a fish merchant's son, is arranged to get married to Victoria, the daughter of soon to be penniless aristocrats. Both are worried of meeting each other in fear that they wouldn't like each other but hit it off rather well as compared to their parents respectively. During their wedding rehearsal, Victor stumbles upon his vows and accidentally sets Victoria's mother's dress on fire. He is threatened by the pastor to learn his vows, setting Victor off to run away into the woods to practice his vows. Suddenly, he recites it perfectly with a new sense of confidence and places the ring onto a stick resembling a hand, only for the hand to grab Victor's arm and reveals itself to be the hand of a corpse. Frightened, Victor attempts to run away to safety only to be followed in an extremely well down scene which would scare the hell outta me if I were in his shoes. The corpse takes Victor to the Town of the Dead where, well... every one's dead. And as compared to everyone living, they're happy. Here we learn the back-story of the Corpse Bride, named Emily, and of her "fate" to be set free when she finds her truly love, this being Victor. Thus introducing us to the problem of the film for our protagonist: Does he pick Victory or does he stay with Emily, who unlike a real corpse is very clever, funny, free-spirited, and beautiful.Voicing Victor is Burton's main man, Johnny Depp, who gives a wonderful performance as the clumsy protagonist in love with Victoria, voiced by Emily Watson. Helena Bonham Carter voices the titled character and we're rounded off by other cast favorites the likes of Albert Finney as Victoria's father, Michael Gough as Elder Gutknecht the elderly skeleton with knowledge of magic, and Christopher Lee as Pastor Galswells. For me, though, it's definitely Lee and Gough who steal the show. It's a ton of fun seeing old school horror alumnus voicing such hilarious characters, their voice being extremely recognizable that I have to have a smile on my face, especially when Gough recites the line, "Now, why go up there when people are dying to get down here? " which never fails to get a chuckle from me.The animation is amazing. Every time I watch this movie I'm amazed at just how far stop-motion filming has come. I stated before back in my Coraline review that I tend to prefer stop-motion animation over plain old CGI film-making and it's because it seems to have this really raw and gritty feel to it. It feels a bit more real to me in a sense. The colors in this movie, although low-key, really help put you into the movie too. Especially when you get to the Land of the Dead. The Land of the Dead is vibrant and always has skeletons ready to have a blast singing a song as compared to the Land of the Living where everyone is slow and dull and the lighting is bland. It's extremely entertaining watching all the civilians of the Dead town getting excited and ready to throw a party over a new arrival. And speaking of song, who doesn't love Bonejangles song about how Emily came to be the Corpse Bride, The Remains of the Day? That specific song number is enough to watch the film. Danny does a great job with the raspy jazzy skeleton who loves a woman with meat on her bones. I have to say, though, besides that song, the other numbers aren't quite as memorable. Especially compared to the wonderfully memorable tunes of The Nightmare Before Christmas. When one starts watching this movie for the first time, they can't help but start comparing both films. I will say, though, try your best not to. When I first watched this movie, I couldn't get into it because it wasn't The Nightmare Before Christmas. When I watched it again, this time seeing it as it's own movie, I enjoyed it immensely.From watching this film you could tell every one probably had a great time. And it helps as it's a really enjoyable film. I was able to talk my mom into watching this movie as she tends to disregard films of this nature and she caught herself really getting into it and finding a lot of scenes hilarious. It's in fact a fun family movie, although I have a feeling some parents, particular with strong Christian faith may not want their child seeing a film of this nature. Just my two cents with that. Only real complaint from me was that I felt it could have been a longer film. Would have enjoyed more fun, but hey. You get what you get, least it was entertaining.
---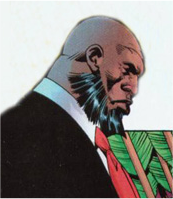 By Greg Anderson-Elysee in Columns on July 24, 2009
Once again I complain about the claims of racial agendas, this time with contrived homos! Hey look, gay and black superhero Josiah Power!
---
By Greg Anderson-Elysee in Blog on July 7, 2009
From the creator of Juno...
---
By Greg Anderson-Elysee in Columns on June 12, 2009
Do you want to know what rocked last month? Image's Olympus #1! If you haven't picked up the issue, you've done yourself a great disservice. Today we have a 5 page preview of issue 2. Come see what you're missing...
---
By Greg Anderson-Elysee in Columns on June 12, 2009
If a book wasn't in current continuity of the recent times, would you care to read them? My thoughts on this matter...
---
By Greg Anderson-Elysee in Blog on June 11, 2009
WHOA WHOA WHOA!Haha! Bring it on, I'm pumped!
---
By Greg Anderson-Elysee in Archives on June 8, 2009
Reviews of Toy Story: The Mysterious Stranger #1, The Unknown #2, Mr. Stuffins #2, and The Unthinkable#2
---
By Greg Anderson-Elysee in Columns on May 27, 2009
Special Face To Greg exclusives from Image's Olympus' Nathan Edmonson!
---