Gregory Anderson-Elysee is a Brooklyn born and based filmmaker (director and editor), playwright, comic book writer, model, and part time actor. He was one of the first writers and interviewers of The Outhouse. He is the writer and creator of the upcoming book Is'nana the Were-Spider. He can be found on Twitter and Facebook.
---
By Greg Anderson-Elysee in Columns on May 26, 2010
On the return of Face To Greg, I interview writer of Marvel's FrankenCastle, Doctor Voodoo, and Radical's The Last Days of American Crime and discussing writing his set of bad-ass heroes.
---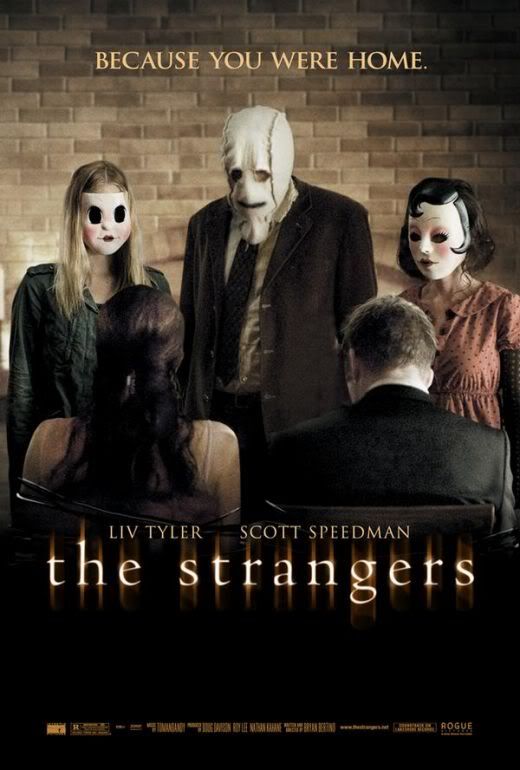 By Greg Anderson-Elysee in Blog on May 17, 2010
This film being Bryan Bertino's first theatrical directorial prosper shows a ton of promise within the horror realm. The movie stars Liv Tyler and Scott Speedman (glad to see he's still getting some work) as a couple dealing with their relationship after James (Speedman) proposes to Kristen (Tyler) but sadly gets a rejection. The two drive off to their summer home where it is awkward between them. When things finally start to look a bit better for the two, there's a knock on the door. "Is Tamara home?" asks a young woman at the door. After being sent on her way, James' character decides to take a drive in order to clear his mind while Kristen's character stays at the house... but she's not alone. "Is Tamara home?" girl shows up again and is then followed by a creepy man wearing a mask quietly stalking Kristen in the house. There are little subtle moments that add to the creepiness of this wonderful scene. Before James left, Kristen mentions that she was out of cigarettes, no cigarette in sight for her to smoke. After James leaves, Kristen is noticeably tense and picks up a cigarette not realizing it wasn't there before, adding a slight bit of uneasiness watching. Things also start to be revealed to have been misplaced and you see that creepy man standing somewhere in the background, still like a statue. Yeesh. Definitely my favorite scene in this whole film. When Kristen starts to realize something is wrong, she calls James back home and soon after starts to get terrorized by three different strangers, all making it seem pretty clear they're out to kill her. When James finally returns, he's added into the danger when he finds his car smashed in, and phone missing, leaving the couple vulnerable.The performances of the lead cast I felt were very strong and really added a lot to the overall film. Bertino also has a wonderful idea on how to build up tension and creepiness extremely well, a craft that seems to be missing in a lot of horror these days. Bertino adds just a right bit of pace, music, sound effects, and jump scares that's easy to get someone uneasy. Despite everything that's going for it, the film falls flat. The story could be a lot better and although you're finding yourself tense and hoping the couple make it out in the end, you're left wondering to yourself, "What's the point of all this? Why am I watching this?" While the pace of specific scenes are superbly used, the overall pacing of the story seems very off and is a bit discouraging. It makes me think about how much I enjoyed Vacancy over this film.Overall, if you're interested in seeing specific tense rising scenes, Bertino's clearly shows he understands the craft. You can check it out for that. If you're looking forward to see a solid story, something that will shock and get into your head, I wouldn't recommend this. I will say, though, this film does a lot better job in actually scaring you than the recent Saw and Hostel films. While you can see this film as a slasher film and there is some gore, its the uneasiness that works well and places itself in a higher position that the torture-porn films with almost to no substance.
---
By Greg Anderson-Elysee in Blog on May 8, 2010
New Christopher Nolan!!!
---
By Greg Anderson-Elysee in Blog on May 8, 2010
Man, I haven't been keeping this blog up to date for quite some time! Apologies for some of my readers. I've been so damn busy with school this semester, especially due to one class where we had to put on a show where I played the Devil, mwahahahaaa!!! Boy was that a freakin' blast. Working with everyone on the ensemble was just a wonderful blessing. I plan to post some pics/videos here when I can.For now, I'll post this fan film Street Fighter video I just stumbled onto it. Bloody bleedin' awesome!
---
By Greg Anderson-Elysee in Reviews on April 14, 2010
Indie comics expert Greg reviews the latest from Outhouse favorite Nathan Edmondson!
---
By Greg Anderson-Elysee in Blog on April 3, 2010
Awww man, this trailer cracks me up. I may want to see this.
---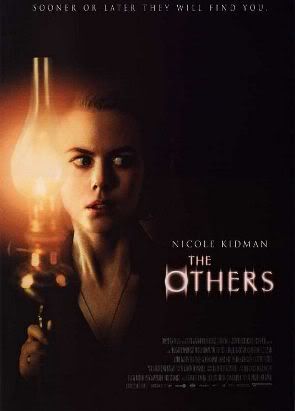 By Greg Anderson-Elysee in Blog on April 1, 2010
A movie I've been wanting to see again for years. I had only seen this movie once before and recall being absolutely amazed by it, from the quality of production to the performances to the ending. The ending is a fantastic modern classic twist if I do say so myself. Actually, the first time I seen this movie fully, I knew the twist because I walked in to the last 5 minutes of the film when it was in theaters when I was looking for my mother who was watching this film. But now that I finally own this film and watching it now with a clearer mentality and love for film-making and horror in general, this movie definitely still has and showcases the type of horror that I absolute love and strive to study and hopefully capture with my own art whether it be writing or filming.The movie stars Nicole Kidman as a stern and sometimes very cold mother named Grace. She is very hard on her children Anne (Alakina Mann) and Nicholas (James Bentley), constantly pushing the words of the Lord and Bible in their minds. She is also highly protective of them due to their disease of being photosensitive. If the sun were to hit their skin, they'd get a terrible allergic reaction and die. Therefore Grace makes sure to cover the whole house in curtains in safety of her children. While she is very strict, you still get a sense in every scene of the love and devotion to her children. Her husband has also been missing and declared dead from fighting in the war and all her servants have abruptly left the house. Grace ends up opening her house to three servants passing by. While very nice and charming, as the movie progresses you're not quite sure what exactly their motives are. Especially in connection to the strange occurrences in the house. Grace one day hears the sounds of a child crying. She rushes quickly to her children but neither of them admits to the tears. That is when Grace's daughter, Anne, brings up a boy named Victor, the name of a ghost in the house. Grace, a believer of the afterlife and her religious teachings, refuses to believe this and punishes her daughter until she herself begins to experience the occurrences. She is very tough as she tries her best to find out what is going on in the house and attempts to fight these unwanted ghosts out of the house while protecting her children and trying to keep her sanity.Director Alejandro Amenábar does a fantastic job guiding us through this psychological supernatural thriller. The atmosphere, tone, and mood set up since the very beginning is done beautifully and is compared well with the fantastic use of music, sound effects, and mixing. All the technical setups including seamless camera shots and editing really brings us to a very tight and coherent production. Combined with strong performances from the actors, the Others is overall a plain winner in my book. Very underrated, if you ask me. I also applaud the fact that I don't recall seeing any real CGI special effects. Nearly everything seen in the film seems very practical to shoot. It seems many people forget that you can easily get under people's skins and/or astonish them with just great use of camera work, tense shots and moments along with sounds and moving doors that you can simply have some one move with their hands while under the camera view, heh. If you have not seen this film, what are you waiting for?Originally Pubished at: Minds of Greg
---
By Greg Anderson-Elysee in Blog on March 28, 2010
Finally having seen this, this was probably the 4 or 5th time I've attempted to watch this movie and finally saw the whole thing. Not that the previous times I found it lacking or boring, I would just always fall asleep from tiredness or have been interrupted in someway shape or form. So finally about two months ago I was finally granted by the Fates to watch this film uninterrupted with the lights turned off with my wonderfully soft and warm cover. And wooo-boy was this fun! Now I have not seen the original but from what I hear, like nearly every remake, people were very annoyed that this film was made to begin with when you had the original titled REC from Spain. I've also read that both films are in fact nearly exactly the same, as the film seems to be a shot-by-shot recreation of the original. As someone who hasn't seen the original but only seen the remake, I have to say I'm definitely a fan and was entertained. I may have to look for the original to own if I found this remake so darn fun to watch.The movie is filmed in a "found footage" style, the style of Cannibal Holocaust, Blair Witch Project, and recently Paranormal Activity. The movie begins with reporter Angela Vidal (played by very believably by Jennifer Carpenter) and her camera man Scott Percival (Steve Harris) filming footage introducing us to their next assignment where they follow a group of firefighters for the night. Through interviews and b-rolls, we're introduced to different firefighters, Jake (Jay Hernandez) and Fletcher (Johnathon Schaech), showing them the ins and outs of the fire station. Angela, who mentions when she was a kid wanted very much to be a fire-fighter, is anxious to get a call to go out and get some action. Boy, does that "Be careful what you wish for" saying come true. The crew gets a call and they rush over to a three story building where it seems everyone's in a panic. We meet the various tenants in the building and a police officer, Danny (Columbus Short) who isn't happy one bit when Angela and Scott get in his face with their camera, especially after shooting to death a tenant about to rabidly attack him. Angela's night of excitement is quickly halted after seeing an old woman get shot to death. This is no longer a "fun, laughing" matter. Her world will completely be turned upside-down by the end of this movie. The building suddenly gets sealed up as the tenants, including the cops, fire-fighters, and news crew get trapped inside of the building by what seems to be the government, cutting off their cable and cell phones. This ends up causing the building to become a death trap as a weird virus begins to trigger the tenants, bringing them into a state of rage as if being affected by rabies and attacking each other. The bacteria seems to be spread through biting and any type of saliva and while people begin to get infected one-by-one, there's seems to be no way out of this whole nightmare.I absolutely enjoyed the heck out of this film. Having the film shot in found footage style really helps pull you into the action and it certain helps that the characters, actions, reactions, and decisions are entirely believable. None of the movements, specifically the camera, come out forced in anyway shape or form. It doesn't seem convenient that the camera was looking at a specific thing before an action took place. Cinematography through out was simply perfect. While I was enticed and having a ton of fun watching, as the movie progressed I really started to feel generally scared for the characters and would get annoyed when an infected character would come to cause terror. I laughed at how much I was into this film and I really wish I saw this in theaters to hear people shouting at the screen, "Run!" "Oh, you stupid bitch! Stop making noise!"Directed by John Erick Dowdle, if you haven't seen this film I'd definitely recommend it. I feel with all I've been reading and what I've seen of this film, the film itself was recommending me to be interested to see the original which I plan to do now. Also take note of Doug Jones being in the film! I love Doug Jones! Yes, I said Doug Jones, so if anyone's familiar with that name, you know for sure what kind of role he'll be playing and of course he's as creepy as ever. And major props goes to the lead, Carpenter. Is it safe to call her a new-aged Scream Queen after this and her Exorcism of Emily Rose role where she was also excellent in?Originally Pubished at: Minds of Greg
---
By Greg Anderson-Elysee in Blog on March 18, 2010
Robert Rodriguez's upcoming Predators! I only recall him signing up for this film recently. And I'm still waiting for Sin City 2, dammit! C'mon, Robbie!!! But anywho, I have't seen the original two films in years, since I was a lil' kid. Hated Alien vs Predator despite drooling over Sanaa Lathan. Besides that... sign me up!Predators at IGN.com
---
By Greg Anderson-Elysee in Blog on March 5, 2010
A masterfully done film, one of my absolute favorites. Starring Mickey Rourke as Harry Angel, Robert De Niro as Louis Cyphre, and Lisa Bonet as Epiphany, a Vodou mambo, from start to finish you're hooked into this hard boiled noir inspired horror film. Alan Parker does a wonderful job crafting a film of complete and utter mystery, tension, and suspense. You're constantly at the edge of your mind wondering just where this film is going to go and the climax totally lives up. The tone given from beginning to end is creepy, enchanting, and pulls you in. From the music to the colors and the strong performances, you truly believe what you're watching. Is there a supernatural element to this movie? Is it all just in our heads or is the film tricking the viewer? You should see for yourself.Harry Angel is a private detective hired by Louis Cyphre to look for a man who seem to have vanished off the face of the Earth, the man named Johnny Favorite. Harry searches high and low from NYC to New Orleans searching for Favorite. But things start to get highly tense when the the people Harry questions start to drop off like flies through disturbing ways. The cops start to pursue Harry along with other questionable people. He also meets Epiphany, a beautiful young Vodou priestess who's connected somehow, further entangling Harry into this strange web and world of Vodou.I give this film full praises throughout from direction to overall production and acting. A lot of the tense moments are only pushed further by the fantastically strong performance of Mickey Rouke. I have to say from the different films I've seen played by Rouke, his turn as Harry Angel is by far my favorite, especially by the end of the film when everything gets revealed. De Niro clearly has a lot of fun in this weird role as Angel's client and Bonet is fine as a Vodou priestess. I'm impressed greatly in the scene where Bonet shows off her Vodou dancing skills along with a huge group of Vodou practitioners and Bonet really falls into character, making a sacrifice to whoever she's dancing to (why don't we find out she she is dancing to?). I also really adore the sex scene between Bonet and Rourke. A truly enticingly horrifying and mind-bogglingly scene, fantastically well shot with quick jump cuts and highly intense with blood dripping from the rain and pouring on the lovers. Definitely one of the very best "love" scenes I've seen in a movie that compliments well with the suspenseful tone of this masterpiece of a film. A highly recommend piece of art. If you haven't seen this do so. It's a wonderful film to add to your collection, whether you're a horror fan or not.Also noted, I want to mention the special features from the DVD. There's a wonderful documentary going into details of the religion and practice of the Vodou religion in contrast to Hollywood Voodoo that's been pushed forth in movies. I loved this documentary and hope people check it out and don't have a close-mind of the belief and actually take into account just how much Hollywood and the media as tainted people's minds on the Vodou faith.
---